Creating New Products and Technologies with Multiphysics Simulation
BURLINGTON, MA (November 6, 2018) — COMSOL is excited to announce the publication of the latest edition of Multiphysics Simulation technical magazine. This new edition highlights the innovations and numerical simulation work of engineers and scientists worldwide. Topics covered range from life-saving wearable technology to protecting the global economy from counterfeit money.
"We are continuously astounded by what engineers and scientists are able to accomplish with multiphysics simulation," comments Valerio Marra, Marketing Director of COMSOL. "Each case study in the Multiphysics Simulation magazine shows us how accurate virtual prototyping and digital twins have made an impact on organizations achieving design and product excellence."
A few highlights:
Kejako built a complete digital twin simulation of the human eye that models coupled mechanical and optical behaviors.
General Atomics is getting closer to achieving one of the holy grails of energy production.
G+D Currency Technology designed banknote processing systems that securely sort and process millions of banknotes every day.
NARI Group developed customized simulation applications to predict cable faults improving troubleshooting efficiency.
The magazine also features technical articles from industry leaders such as ABB, National Grid UK, and STMicroelectronics.
Availability
Multiphysics Simulation 2018 is available as an online technical magazine and can be viewed digitally or downloaded in PDF format at: www.comsol.com/offers/multiphysics-simulation-2018.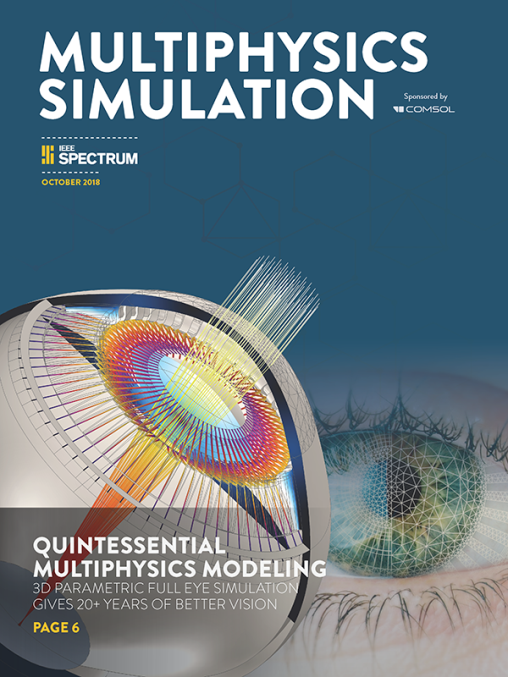 About COMSOL
COMSOL is a global provider of simulation software for product design and research to technical enterprises, research labs, and universities. Its COMSOL Multiphysics® product is an integrated software environment for creating physics-based models and simulation applications. A particular strength is its ability to account for coupled or multiphysics phenomena. Add-on products expand the simulation platform for electromagnetics, structural, acoustics, fluid flow, heat transfer, and chemical applications. Interfacing tools enable the integration of COMSOL Multiphysics® simulations with all major technical computing and CAD tools on the CAE market. Simulation experts rely on COMSOL Compiler™ and COMSOL Server™ to deploy applications to their design teams, manufacturing departments, test laboratories, and customers throughout the world. Founded in 1986, COMSOL has 19 offices worldwide and extends its reach with a network of distributors.
~
COMSOL, COMSOL Multiphysics, LiveLink, COMSOL Compiler, COMSOL Runtime, and COMSOL Server are either registered trademarks or trademarks of COMSOL AB. For other trademark ownership, see www.comsol.com/trademarks.