Plasmonic Wire Grating (Wave Optics)
Application ID: 14705
---
In this model, a plane wave is incident on a wire grating on a dielectric substrate. Coefficients for transmission, reflection, and first order diffraction are computed for different angles of incidence
The model is set up for one unit cell of the grating, flanked by Floquet boundary conditions describing the periodicity. As applied, this condition states that the solution on one side of the unit cell equals the solution on the other side multiplied by a complex-valued phase factor. The phase shift between the boundaries is evaluated from the perpendicular component of the wave vector. The periodicity boundaries are parallel with the y-axis, therefore, only the x-component is required. The phase factor is the same for the refracted and reflected beams as for the incident wave due to the continuity of the field.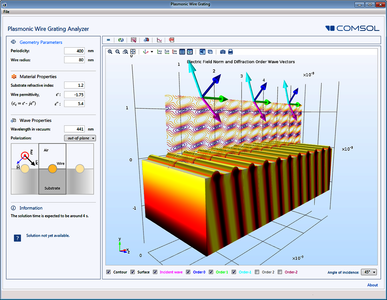 This application is included as an example in the following products:
波动光学模块
however additional products may be needed to reproduce it. This example may be created and run using components from the following product combinations:
The combination of COMSOL® products required to model your application depends on several factors and may include boundary conditions, material properties, physics interfaces, and part libraries. Particular functionality may be common to several products. To determine the right combination of products for your modeling needs, review the 技术规格表 and make use of a free evaluation license. The COMSOL Sales and Support teams are available for answering any questions you may have regarding this.
---